Discussions of nationwide school walkouts fill social media
Plans to raise awareness for safer schools following the Stoneman Douglas High School shooting have appeared not just on social media, but in the stairwells of PNHS.
The goal behind the protests is to strengthen laws regarding gun control, especially the ones that have allowed mass shootings to occur since the Columbine High School shooting.
The media is alive with plans for nationwide student walkouts. One of the biggest school walkouts has been planned by the #Enough coalition, which is made up of supporters from the Women's March, and #NeverAgain, which was started by survivors of the Parkland shooting. Scheduled for March 14th at 10am, the event is scheduled to last 17 minutes in remembrance of the 17 people that passed away during the school shooting. Another major walkout that is planned will be on the 20th of April for the anniversary of the Columbine High School shooting.
Information about a walkout at PNHS has been limited. "I've definitely heard a lot regarding the walkouts. Every time I open up my Instagram, my feed is flooded with information about them. Around school I see posters and hear talks about who's participating," said sophomore Jade Thake.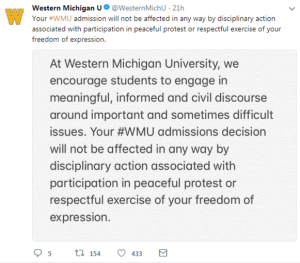 Some schools nationwide have threatened to suspend students for walking out, but as of this posting, administration at PNHS have not issued any kind of statement about the issue. To address concerns about suspension, local college Western Michigan University issued a statement that no student's admission would be affected for disciplinary action.
More information will be provided as it becomes available as it relates to planned walkouts in Kalamazoo County.