Flu season impacts Kalamazoo
Fever, chills, body aches and headaches. These symptoms, among others, are all common of Influenza A: the type of flu that has spreading rapidly around the Portage area. Every fall, the flu starts to loom as winter draws closer, but the 2017-2018 flu season has been especially deadly. According to the Center for Disease Control (CDC), there has been 84 influenza-related pediatric deaths nationwide within the past six and a half weeks.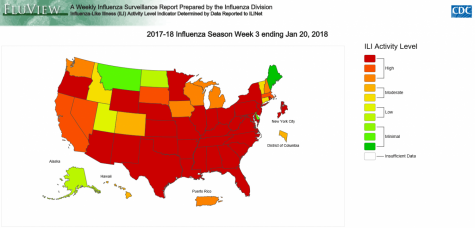 Not only does the flu season, in extreme cases, lead to deaths around the country, but local districts have closed school due to flu related absences. Kalamazoo Public Schools, as well as others around the area, have called cancellations within the past two weeks. According to www.michigan.gov, there has been one pediatric death caused by Influenza A in the state this year, but hundreds of severe cases.
Portage Public Schools has not made an official cancellation due to flu related absences, as they called an official snow day and then announced that they would be thoroughly cleaning the buildings during that time. Despite their best efforts, Influenza A has been making its way around the school as well as surrounding schools in the district. "The past month I have known at least seven people that have gotten influenza or the flu," said junior Justine Corda.