Three observations from MSU/UofM hoops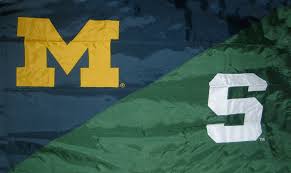 Basketball is about as serious as a good euchre game and referring to soft drinks as 'pop' in the state of Michigan. From the high school level up to the Detroit Pistons, residents of the mitten state are obsessive over hoops. Perhaps the biggest following is at the college level. The Spartans and Wolverines are both playing at high levels this season, so here are three observations from each team so far this season.
Michigan State:
The defense is spectacular
One particular statistic that is incredibly outstanding regarding the Spartans' defense is that they are holding opponents to 31% shooting on two point attempts. That is the best percentage of any team in the last fifteen years. The Spartans have held opponents to 61 points a game, blocking shots and switching well. If they can keep this up, they'll cause problems for the Big Ten in the coming months.
Jaren Jackson Jr. has been playing like a lottery pick
After his performance against Southern Utah, recording 17 points, 13 rebounds, and five blocks, star freshman Jaren Jackson Jr. has all the NBA scouts' eyes on him. The 6'11, 240 pound Jackson is currently expected to be drafted fifth overall in the 2018 NBA draft to the Memphis Grizzlies, according to NBADraft.net. Jackson's long arms and tall stature allow him to block shots effortlessly, and he has shown a potential three point stroke. Oh, and he's only 18 years old.
Miles Bridges has been underwhelming
Picked by many sports media outlets as the Preseason Player of the Year, super sophomore Miles Bridges shocked everyone by announcing his return to Michigan State after being a projected lottery pick. His decision to return hasn't been beneficial to him, dropping his averages in scoring, rebounding, and shooting efficiency. He's been standing on the perimeter and shooting more threes, as opposed to driving the basketball and scoring at the hoop, which hurts MSU's offense.
Michigan:
Having no PG hurts
Derrick Walton Jr. was an incredible leader for the Wolverines last season, scoring 15.5 points a game and shooting 42% from deep. He was the biggest factor behind Michigan's big tournament run after the plane crash. Now that he's playing for the Miami Heat, the Wolverines are missing his leadership. Xavier Simpson and Eli Brooks are the only point guards on the roster, both underclassmen. One of those two will have to step up and take over.
Moritz Wagner is the real deal
Junior power forward Mortiz Wagner is having a stellar start to the season. Averaging 16 points and eight rebounds and also shooting 38% from three point range, the German has played himself into first round draft conversations (currently mocked #28 overall to the Warriors). Wagner will need to continue to play efficiently for Michigan to have any success this season.
Competing in the Big Ten will be easier than they thought
The Big Ten is having a down year. Michigan State, Minnesota, and Purdue look to be the only teams that will be in the conversation for the conference title. Unless, of course, Michigan can continue to play well. The Wolverines are 8-3 and have only dropped one conference game thus far. If they can take care of the cupcake teams and win against the big dogs, they could find themselves in their second consecutive Big Ten Championship game.