Prince, Witt, and Ford make return trip to the state finals
Only the elite compete! This year, only three athletes from the Portage Northern Track team qualified to compete at the state meet: Madi Ford (12), Peyton Witt (10), and Randy Prince (12).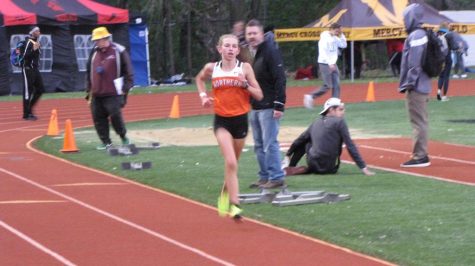 Witt qualified for track, running the 3200. She is excited to run the 3200, saying "I would like to be in the tens at the state meet. At regionals I was 11:00.40, so it would be nice to break 11." At regionals, she got second place and ran 14 seconds under her previous personal record on a cold and rainy day, qualifying for the state meet on June 3rd not by place, but by besting the additional qualifying time of 11:14.
Randy Prince qualified for states on the other side; field, by winning the discus event. Prince says he is, "excited to throw discus and hopefully become the state champion! We expect to do great things this year." Expecting to break his current PR of 172'8'', Prince is not worried about the pressuring atmosphere that states bring, saying he expects the pressure "not to bother me too much, considering how the regional meet was. The rings were flooded!" Prince joked about his secret this season, saying "It would definitely help if people don't realize that tennis shoes work better in the rain." Prince is seeded at fifth for the state meet based on his regional performance, however, his personal record this season is further than anyone else has thrown this year. Prince has had a large impact on his coaches and fellow throwers. Coach Sean Foulkes says, "What stands out most to me about Randy is his relentlessness to pursue his goals. The first time I saw him throw, I knew he had the potential to do some pretty amazing things in the throwing events. We talked about long term goals, some of which he achieved, some of which he is still chasing. I believe he will be successful wherever he chooses to pursue his athletic and academic careers. For all his athletic accomplishments, I feel his greatest will be the impact that he and the other seniors have left on the throws program, helping to create a culture of goal chasing, family, and throwing far."
Lastly, Madi Ford defied all odds at the rainy regional meet to qualify in pole vault. The pole vault event was cancelled and restarted a dozen times, causing the event to run longer than planned and forcing competitors to compete in less than ideal conditions, even dangerous at times. Even though she was third place, she advanced to state by jumping the additional qualifying height of 10'3. With the state meet being the last meet of her high school career, Ford "hopes to leave it all out there." Although she is hopeful of success, Ford says, "I do not have any expectations on placing, because putting that pressure on myself would make me a nervous wreck! The kind of environment at states typically makes me nervous, but I think keeping myself free of expectations will help make me less nervous." Some of the pressure has also been taken off by the fact that Ford recently committed to pole vault at Western Michigan University, erasing the stress of trying to do well at the state meet and be recruited/choose a college at the same time. Last year, she finished 4th with a big PR on the day. "We've had a tough and rainy season. We're hoping for a good day at the state meet and some warm, sunny practice days between now and then to try some new things, like work on the top of her jump and get her on a bigger pole," said her coach Amanda Thorpe.

Overall, the three competitors seem ready for states, each taking their respective events with varying attitudes ranging from excitement to nervousness. Nevertheless, let's wish our Huskies luck as the elite compete!