Airport Charlie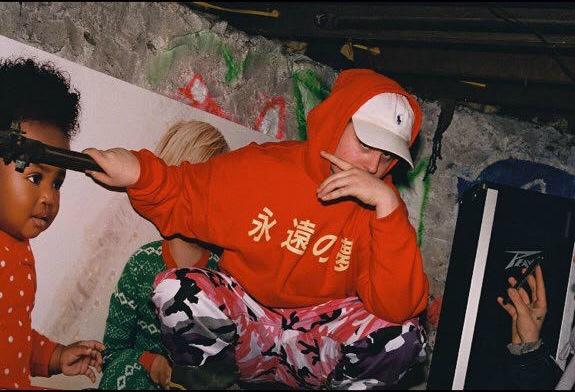 Mostly known by his rap moniker "Lil Airport," Charlie Gower (12) has gained a load of popularity recently from his rap songs he shares on the music platform SoundCloud. Gower has over 170 followers on the app and has dropped 16 songs, including one called 'Takes Time,' which has over 3,600 plays, featuring Portage Northern's own Antywan Bryant (11), who is known as TTFK.
Gower says he got into rapping and making music a few years ago when he experimented with making beats. "I could always really feel all types of music, then I got into hip hop and started writing some things down and trying to make beats. Then I met a few people around [Portage] who make beats," he says. Gower and his friends initially were messing around with making the base of their music, but then decided they would try to get serious and make their sound better. "We started getting more serious about it about a year ago," Gower says, "But we've been messing around for a few years with beats." Gower says he's gotten a lot of support for his music. "The quality is getting much better, the work flow is always increasing and more people are noticing," he says, "Like last year March, when I started getting better and more serious, my goal was to drop a song every Saturday that month. Now, it's like entire projects we're working on." Jaskeerat Singh (11) doesn't love Gower's music, but he doesn't hate it. "Not something I get hyped about, but it's not bad," he says. "I like it, it has a good beat," says Taylor Lyke (11). Gower's biggest inspiration is anything that goes on around him. "A lot of what I write now is analogies for something bigger to kind of think about. Anything going on with me, around me, and then other artists, obviously."
One artist that inspires Gower tremendously is $ilk Money from Divine Council. "For the sake of his flow mostly and lyricism. His lyrics are incredible." Playboi Carti is another, because "the way he operates is insane, he never drops music, managed to get signed to Interscope [Records] and A$AP Mob, and the hype for Playboi Carti is incredible cause he kinda started a whole wave." Gower echoed the same sentiment for Kid Cudi, Denzel Curry, and Kanye West, saying for West, "He's grasped onto every style of rap depending on the time period and managed to stay relevant over the years and his amount of simplicity is wild." Gower says if he makes it big, the first thing(s) he'll do is, "Buy a lot of clothes, and get as good quality music as I can, connecting with other artists and producers." An 8 track mixtape called Winter Blues is on the way, releasing March 20th, Gower says, and another concert coming soon, following up from his New Year's Eve concert. Gower mentions of Winter Blues, "I wrote it all in 2017, it has production from all local people I work with, it has a lot of variety on it." Make sure to be on the lookout for new music from Lil Airport, because he's only getting much better and hopes to make it big very soon.