Hometown boy gets national recognition for act of kindness
Perhaps you know him as the 2017 Winterfest King, or maybe it's from seeing him on the Portage Northern Stage during Into the Woods or The 39 Steps, but most likely you know senior Mohammad Hasher (who often just goes by his last name) from this tweet that went viral: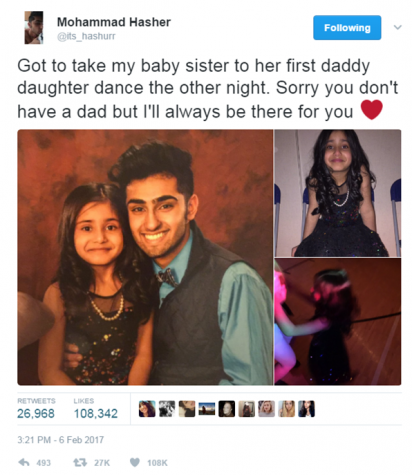 On February 4th, Hasher found his first grade sister sitting on the couch in their living room. "I saw her sitting there with her pajamas on and a dress over them. I literally said, 'Noor, you look so silly, go take that off','" he explained. When he asked her why she was dressed so oddly, his sister explained there was a dance at her elementary school and she couldn't go because their father is no longer around. Hasher and Noor hadn't heard from their father for over six months, since their parents divorced. The time since has been hard on the family in more ways than one: "We've had to move states, been homeless, and have struggled continuously for the past few months," Hasher said. "I immediately told her that I'd take her."
Noor and Hasher's mother, Sadia, was very proud of her son's lack of hesitation to take his sister to the dance. "He's such a good big brother. I'm so proud of him for stepping up," she said.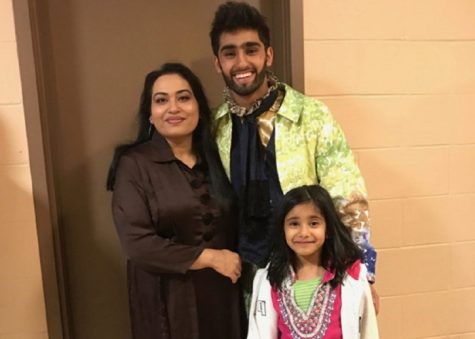 Hasher took videos of the two all night and uploaded them to his Snapchat story. Both Hasher and Noor had an unforgettable evening. "I didn't want her to be left out or feel like she can't do normal things like all her friends just because of the circumstances," he said. Hasher even won the award for Best Dad at the event. "We had a lot of fun. He looked very good and he is so funny," Noor said.
The very next morning, still on a high of kindness and positivity, Hasher posted the infamous tweet to share his evening with his friends. Within hours, Hasher's Twitter blew up. 26.9k retweets and over 108,000 likes later, Hasher and his little sister are now internet celebrities. "Noor loves the attention! Some of her favorite YouTubers have reacted to the tweet and reached out, which made her really happy," Hasher said.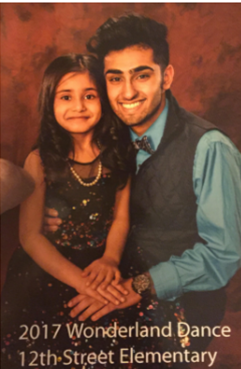 It's not just YouTube personalities reaching out either: celebrities Ashton Kutcher and Ellen Degeneres have also extended their congratulations to Hasher and his family. Spurred by his friends, random strangers online, and even PNHS, #GetHasherOnEllen started to trend. "The Ellen Show actually called me," Hasher revealed. "One person tweeted it and when I retweeted it, a lot of people started tweeting it. Unfortunately, they were booked with celebrity guests and unable to bring me onto the show," he said.
Despite not being able to go on the show, in the footsteps of Ellen herself, Hasher just wants people to take away from his experience how easy it is to be kind. "I just want people to be able to take a message out of it that little actions out of the kindness of your heart can make a big impact on someone's life and so it's important to spread love and happiness," he said. While he is known for being a positive presence at school, on this particular night he was able to create a magical evening for a very special little girl.
Anyone motivated by Hasher's story with siblings at Haverhill Elementary can follow his example and take their sister to the dance tonight, which is in the PNHS lower commons from 6:30-9:00 pm.