Rowing the boat away: Coach Fleck leaves WMU
The Kalamazoo is saddened by the news of the departure of 4-year WMU football coach PJ Fleck. On January 7, Fleck announced that he was leaving WMU to accept the head coaching job at Minnesota.
Fleck led his team to a 13-0 regular season record, winning the MAC championship against Ohio. There season ended with a 16-24 loss to Wisconsin in the Goodyear Cotton Bowl, the first New Year's 6 bowl in school history. After his first season, when the Broncos were 1-16, he helped lead his team to improvement and ultimately to a bowl game two seasons in a row.
After the season, Coach Fleck was highly sought after by many other colleges. Fleck consistently deflected rumors that he was leaving and refused to speak with any other colleges until the Broncos' season was over, which may or may not have cost him some other high profile coaching positions. WMU fought to keep Fleck with what athletic director called "an incredible offer" that was a combination of University salary, benefits, and private donations, but in the end it was the University's Big 10 status that drew him away. "It's an honor to coach at Minnesota and be part of the Big Ten conference," said Fleck. The $21 million dollar, 5-year contract probably didn't hurt, either.
Fleck leaving is a hurdle hitting an already injured team. They lost Corey Davis, a highly talented receiver that has the most receiving yards of all time in the NCAA. They also lost a highly experienced quarterback in Zach Terrell this season. Both players had huge leadership roles and trying to fill these holes is very unlikely. To make matters worse, six recruited players for Western Michigan next year have already decommitted to go to Minnesota and there could be more to follow.
While many Broncos fans are sad to see him go, Fleck's own players wish him nothing but the best. Terrell said that Coach Fleck "changed my life forever" and offensive lineman John Keenoy expressed gratitude for the chance Coach Fleck gave him.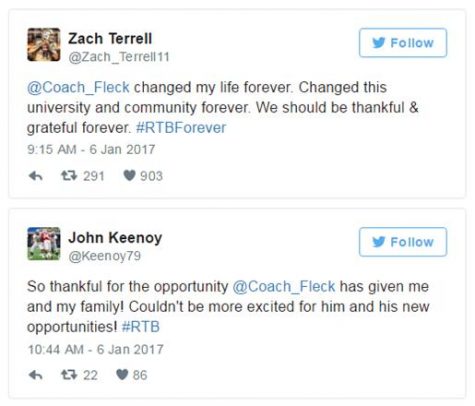 When Fleck left, he was already the highest paid coach in the MAC at just under 1 million dollars. New coach and former Bronco QB and QB coach Tim Lester will receive the same salary, showing that WMU is putting a priority on their football program. Only time will tell whether Lester will be able to maintain the program's forward momentum, but it would not be unreasonable to believe that it may be a long time before Western is as good as it as last year.