Women's swim team makes a splash at the conference championships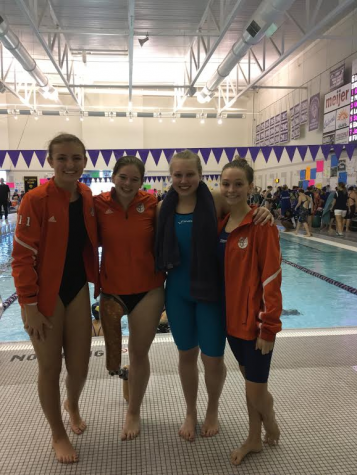 The Huskie swim team had an amazing finish to their season on November 4th and 5th at the SMAC Championship.  They came in 3rd out of 9 teams in the conference and beat Battle Creek Lakeview, which was a huge accomplishment for these ladies.  "Throughout my high school swimming career, we have never beat Battle Creek Lakeview.  This 3rd place victory gave the team a whole new sense of hope," said Bella Hack (11).  Alyssa Riker (10) swam her way to conference champion in both the 200 freestyle and the 100 butterfly, and the 200 medley relay team of Bella Hack, Annie Malek, Lexi Doll and Alyssa Riker earned 4th in the conference.  As a whole, 93% of the times that the team clocked that day were season bests and most were also lifetimes bests.
On November 18th and 19th, the 200 medley team of Hack, Malek, Doll, Riker and alternates Hailey Sobell and Emma Tiongson will swim at the State Championship at Eastern Michigan University (they are seeded 16th).  The girls will compete Friday in hopes of making it to finals on Saturday. The top 16 teams will advance, so the team is on the bubble. "It's a lot of pressure, but it's also really impressive for a team that was seeded last at the state meet last year to be in the top 16. To make it to finals, we need good starts, good finishes…we're to the point where our speed is as fast as we all can go, we just need to focus more on the little things," Malek explained. Riker will be competing in the relay as well as the 200 freestyle and the 100 butterfly and has the highest Huskie seed at second in the state.  Malek will also be competing in an individual event in the 100 breaststroke (15th).  Stay tuned to the Northern Light twitter (@pnlight) for results as they happen the day of the big meet.