2016 MLB Playoff Predictions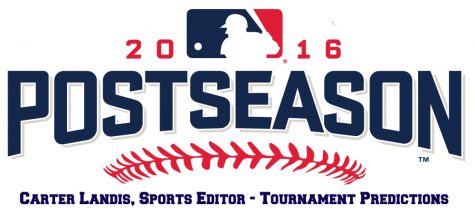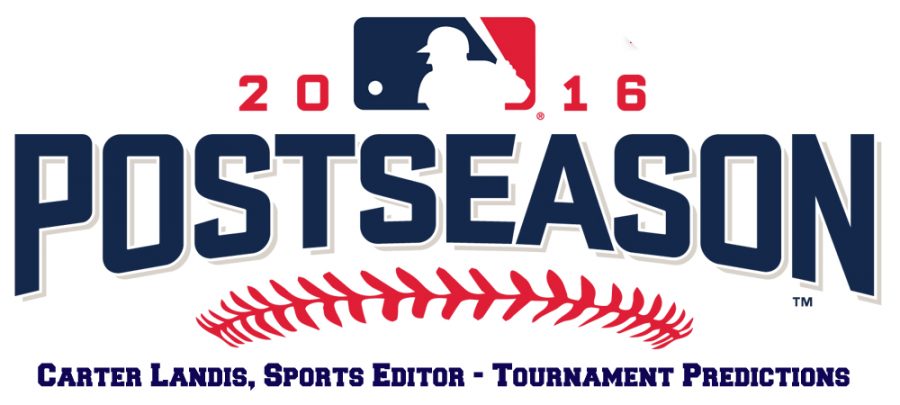 The playoffs are here, which is just what baseball fans need after the tragic death of Marlins pitcher Jose Fernandez. A great last month of baseball will take the fans' minds off the most horrific thing to happen in the MLB in a very long time. The wild card games begin tonight, and it looks to be another unpredictable and very entertaining playoffs.
AL Wild Card Game: Blue Jays vs. Orioles
Jays ace Marcus Stroman squares off against the Orioles' Chris Tillman for this one. This game features two of the game's best third basemen in Josh Donaldson (Toronto) and Manny Machado (Baltimore). Donaldson is having a phenomenal year worthy of an MVP. He is slashing .284/.404./.549 with 37 home runs and 99 RBIs and the 5th best WAR in the league at  7.4. Both lineups feature sluggers like Chris Davis and Matt Wieters (who has dominated Stroman this season) for the Orioles, while Toronto rivals with Jose Bautista and Edwin Encarnacion. This game will have a more offensive feel to it, and the Jays will emerge victorious.
Toronto 9, Baltimore 8
NL Wild Card Game: Mets vs. Giants
Last year's NL champion Mets  had a bit of a hangover season, but were still good enough to nab a wild card spot. The depleted Mets rotation features Noah Syndergaard dueling with Madison Bumgarner of the Giants. The Giants have won the world series in each of the last three even years since 2010, provoking fans to automatically assume they'll win it all this year. However, San Francisco was ranked 19th in team batting average this season. They do, however, have a top five pitching rotation featuring Bumgarner and Johnny Cueto. The Mets have big hitter Yoenis Cespedes, who went yard 31 times with a .530 slugging percentage. The even year magic will triumph for the Giants.
Giants 6, Mets 2
ALDS: Rangers vs Blue Jays
A heated rivalry, these two teams have hated each other's guts dating back to last year's playoffs when Jose Bautista flung his bat after hitting a monstrous home run late in game five of the 2015 ALDS. Earlier this season, Bautista took a hard slide into Rangers second baseman Rougned Odor, which did not go over with him well: he then laid a right hook into Bautista's jaw. Expect this series to be testy with lots of ejections. The Rangers are the best team in the American League and should win this series.
Rangers over Blue Jays in 5 games
ALDS: Red Sox vs Indians
As Sox designated hitter David Ortiz says goodbye to the game of baseball, he looks to go out a champion. Meanwhile the Indians look to play spoiler, and could very well do it, featuring a very talented team with the likes of Cy Young candidate pitcher Corey Kluber and young shortstop Francisco Lindor. The Sox send out MVP candidate Mookie Betts and the effervescent Jackie Bradley Jr., who look to do some damage to the stellar Indians rotation. Boston's offensive firepower will be too much for the Indians to handle.
Red Sox over Indians in 4 games
NLDS: Dodgers vs Nationals
Some of the national league's best take the field in this one, as many of the game's elites will be on both sides of the diamond. Bryce Harper, Max Scherzer, and Trea Turner show out for the Nats, while Clayton Kershaw and Corey Seager will do their best to get the Dodgers to the World Series. Kershaw, baseball's best pitcher, has a history of struggling in the postseason. He has a 2-6 record with a 4.59 ERA in the playoffs since entering the league in 2008. Rookie of the year favorite Corey Seager takes his first crack at the playoffs. The Nationals have had their fair share of faults in the postseason as well, but this year ace Max Scherzer looks to take down the Dodgers with an array of strikeouts (he tallied a career high 11.2 K/9 this season). The Nationals will prevail behind a dominant performance by Scherzer and the rotation.
Nationals over Dodgers in 5 games
NLDS: Cubs vs. Giants
Believe it or not, the Chicago Cubs are by far the best team in baseball this season, having won 103 games and being top three in hitting and pitching. Kris Bryant might be the best third baseman in the game and looks well on his way to winning an MVP, recording 39 homers and 102 RBIs with a 7.7 WAR at the tender age of 23. Former Cy Young winner Jake Arrieta had another outstanding year, but he didn't pitch better than his teammates Kyle Hendricks and Jon Lester. Having the league's best pitching rotation bodes well for the Cubs' chances at winning their first World Series since 1908.
Cubs over Giants in 3 games
ALCS: Red Sox vs. Rangers
Boston and Texas brawl to be the American League world series representative. One player to keep an eye on is Rangers catcher Jonathan Lucroy. Lucroy was acquired from the Brewers for the sole purpose of making a deep playoff run. He is a great hitter who slugged .539 in 47 games since being traded to Texas. Lucroy adds a powerful punch to a Rangers lineup that finished 4th in the league in total batting. The Red Sox, however, lead the entire MLB in total batting. Sox ace pitcher David Price, like Clayton Kershaw, is notorious for poor showings in the playoffs with a 2-7 record and a 5.12 ERA. The Sox will struggle at this stage and David Ortiz's illustrious career will come to an end in the ALCS.
Rangers over Red Sox in 6 games
NLCS: Cubs vs. Nationals
Chicago and Washington will play for the national league pennant and dynamic lineups and flamethrowing pitchers will be on tab for this one. Kris Bryant, Anthony Rizzo, and the Cubs will be ready to take on Bryce Harper, Max Scherzer, Trea Turner and the Nationals. The NL's best two teams will show out, and the Cubs will come out on top.
Cubs over Nationals in 5 games
World Series: Cubs vs. Rangers
The best two teams in baseball. One big stage. All for the bragging rights as the best in the league. The Cubs haven't reached the World Series since 1945 and the Rangers haven't been since 2011, losing in dramatic fashion to the St. Louis Cardinals. This series is guaranteed to go seven games and Kris Bryant will be the star. He'll hit 4 home runs and win the World Series MVP award. At 23 years old, Bryant will establish himself as one of the best players in the MLB and lead the Cubs to a championship.
Cubs over Rangers in 7 games