Ballin' like March Madness: Things to watch in this year's NCAA Tournament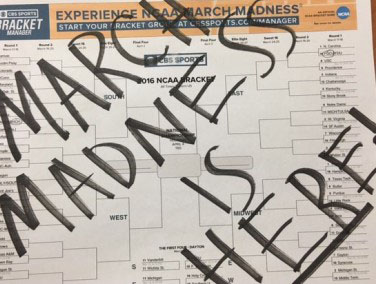 It's been the craziest year for college basketball. This year upsets have been more predictable. No team ranked #1 has held the position for more than 5 weeks. With all that said, it might be even harder than usual to fill out your bracket. Here are a few things to watch for so you don't go mad in March.
 Biggest Impact Player: Skal Labissiere, Kentucky forward
After having a monster start to the season, former #2 ranked recruit Skal Labissiere's productivity dropped off majorly as the season progressed. Posting 12.9 points, 4.3 rebounds and 2.1 blocks per game in November, Labissiere was in the conversation for the #1 overall pick in the 2016 NBA Draft. But after his numbers declined over the next few months, coach John Calipari benched him. He regained some confidence against LSU on March 5th, scoring 18 points, grabbing 9 rebounds and blocking 6 shots. Look for Labissiere to lead the Wildcats far in the tourney and avenge this year's midseason slide.
  Biggest sleeper team: Iona Gaels
Straight outta the Metro Atlantic Conference, The Iona Gaels are led by senior guard AJ English, averaging 22.4 points per game. He dropped 46 points in a win against Fairfield earlier this season. After winning the MAC over Monmouth, the Gaels are a #13 seed that could potentially ruin lots of brackets, so keep an eye on Iona.
  Team that could (and probably will) be upset: Villanova Wildcats
Given a #2 seed by the committee, Jay Wright has his guys primed for the dance again. But over the last few years, the Wildcats have failed to advance to at least the Sweet Sixteen. Josh Hart and Villanova will play UNC-Asheville, a #15 seed, which they are expected to win. But that probable victory would set up a game with Iowa or Temple, both very tough teams. Iowa wins by defense; Temple is fantastic away from home. A matchup with either of those teams would probably spell the end for 'Nova yet again.
National Championship Prediction: Kansas over Michigan State
Kansas and Michigan State are probably the two best and most elite teams in all of college hoops this year. Bill Self and Tom Izzo have coached their respective teams well, per usual. These teams met back in the first week of the season, with the Spartans winning 79-73 behind Denzel Valentine dropping a triple double. He scored 29 points, grabbed 12 rebounds and handed out 12 assists. But the Jayhawks are much better than they were at the beginning of the season. Perry Ellis will take over the game, and the Kansas Jayhawks will win the 2016 NCAA National Championship.