Competitive Cheer
Portage Northern and Portage Central's Cheer Teams
"Hands on our hips, smiles on our lips, spirit in our hearts, Ready..set..start!" This quote shows the kind of thing a stereotypical high school cheerleader would say.  Many people think cheer leading doesn't count as a sport, or that it is a bunch of dumb girls prancing around in skimpy outfits. News flash, that's Hollywood's version of it, not real life. For girls involved in the sport, it's a passion and even a future. Girls on the Portage Northern cheer team take it very seriously. "I just really like to see my team try new skills and challenge themselves to their fullest," said Heather Prentice, Northern cheer coach.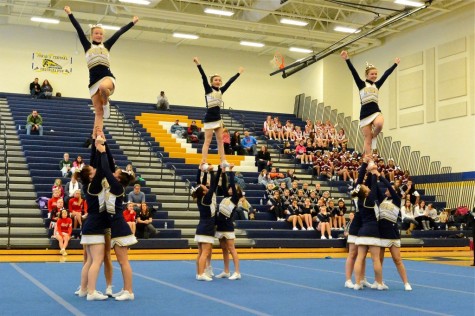 The varsity competitive cheer teams at both schools are very talented. The Northern team usually ranges from 16-20 girls. In a competitive cheer competition there are three rounds; round one which is chants, round two which is chants, skills and tumbling, and round three which is stunting and tumbling. The Portage Northern team tends to score the highest in round three. However, that can change over time as new people join the team with new strengths.
"
Hands on our hips, smiles on our lips, spirit in our hearts, Ready..set..start!"
Practice makes perfect is the saying, right? " [the cheer program] teaches you that actions have consequences, to believe in yourself and to push yourself past your comfort zone," said Portage Northern cheerleader, Catie Bartholomew(10).  The only way these girls do so well in competitions is because the hours, and hours of hard work and practice they put into their routines. They all strive to make their skills better every day.
Cheerleading is more than just a level of popularity, it takes effort and teamwork. At Portage Northern it's one of the most successful teams. It's extremely important to many girls. "[The coaches] don't let you back down and hold you accountable for things." said Bartholomew