Migos – Back to the Bando: A Musical Masterpiece!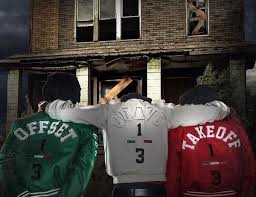 That wild group of guys who gave us 'Versace,' the Migos bring us another new tape called Back to the Bando. After releasing Yung Rich Nation (with unsuccessful results) in late July, the group needed a lifesaver to make up for the crash and burn that they had hoped would push them over the top. Back to the Bando includes a magnitude of fun and upbeat tempo songs that can really get people going. Fans of Migos, or any type of new Atlanta rap such as Future, Young Thug, Rae Sremmurd, and Rich Homie Quan, should definitely listen to this one.
The tape starts with 'See What I'm Saying,' a rather slow and more low key track, compared to other tracks like 'Look at My Dab' and the song titled after the album, Back to the Bando. Furthermore, one of the members of Migos, Offset (Kiari Cephus), being arrested with drug and weapon charges, Quavo's heart wasn't fully into the song without the soul of their threesome. "See What I'm Saying" is a solo performed by Quavo (Quavious Marshall), featuring the same hard verses similar to other Migos songs, but not the usual ad-libbing like many others have. "See What I'm Saying" is great because it tells a message. This song explains how Quavo and his gang came from nothing, and those who lost faith that he'd ever make it to the top have no part in his life anymore. The intro to this mixtape is an instant hit.
Another song that was fantastic off of BTTB is 'Look at My Dab'. While listening to this song, it is a catchy, upbeat, and fun listen.  The signature repetitive chorus featured in many Migos songs features Quavo repeatedly saying, "Look at my dab!" Migos also created a dance move that is sweeping the nation called the Dab, reaching even the likes of the great LeBron James. "Dabbing" is when you cover your face with the bend of your forearm and elbow, as if you are sneezing, while extending your other arm out. This is a simple dance move that anyone can do. Takeoff (Kirshnik Ball) comes on to this track with a level of confidence in his voice not yet heard from him, compared to his feature on 'YRN' by Young Thug. If any song were to blow up off this mixtape, it would definitely be 'Look at My Dab'.
Overall, Back to the Bando was a smashing hit from the rambunctious Atlanta rappers. It was much better than Yung Rich Nation which has many more ballads than Migos fans are used to. The Migos get back to the trap rapping they're known for, which the fans will remember and be happy to hear. They soon are releasing Streets On Lock 4, a collaboration mixtape with Rich the Kid, another Atlanta rapper. If you enjoy the sound they make, Migos is an up and coming group you should keep your eye on.
Migos Fun Facts:
Quavo is Offset's cousin.
Migos' former rap moniker is "Polo Club."
The group started writing songs and making beats in 7th grade.