Oh my gosh, you guys!
A review on the middle school musical, Legally Blonde Jr.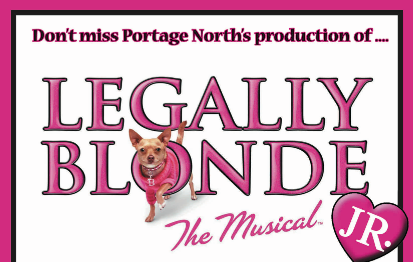 "You got into Harvard Law?" "What, like it's hard?" Legally Blonde has undoubtedly risen to be a beloved production performed through the years on thousands of stages worldwide. This year, Portage North Middle School took the junior version of this show to a whole new level. "I think it's one of the best musicals we've done," said Amira Branson, who plays the part of Brooke Windham.
Legally Blonde is a musical about UCLA sorority Delta Nu president Elle Woods who, in the beginning, is preparing for her engagement with Warner Huntington III. However, Warner has different plans. At dinner, Warner ends their relationship, claiming that Elle isn't serious enough. This gives Elle incentive to chase after him to Harvard Law School to prove that she is, in fact, serious. When she gets to see Warner again at Harvard, he is surprised to see that the Elle Woods actually got in, but not as surprised as she is when Warner introduces her to his new serious girlfriend, Vivienne Kensington. The production then takes viewers through the roller coaster ride that is Elle's experience at Harvard.
"All of the other shows we've done were like Disney and stuff like that and this one is more pop rock and upbeat and fun," said Anna Rabe, who plays the part of Paulette Bonafonté. This year's production is definitely a change of pace for the PNMS drama department, but they pulled it off exceptionally well. Without a doubt, Robert Jordan, Portage North Middle's musical director, has outdone himself this time. With an incredibly talented cast and crew, it's no wonder that this musical is as successful and fun as it has come to be.
"When we started out, it was really rocky because we're not used to shows like this one and it's become much better thanks to our talented cast and crew and the work of Mr. Jordan," said Hunter Pitsch, who plays the role of Emmett Richmond. There is no beating sets that are pretty in pink and music that is bound to get your foot tapping. If you're looking for an upbeat, family friendly occasion this weekend, come see Legally Blonde this weekend on Saturday, May 28th at 7:00 pm or Sunday, May 29th at 3:00pm. You can buy your tickets online at pnmsdrama.org or buy at the box office an hour prior to the performance time.
PNMS's 3 past musicals:
-Beauty and the Beast Jr.
-The Little Mermaid Jr.
-Honk Jr.