Listen to the radio scanner: a review on the movie Nightcrawler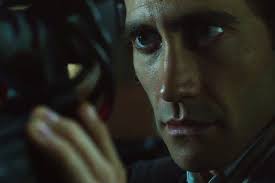 "Remember, use your zoom, steady hands." The movie Nightcrawler, directed by Dan Gilroy, is certainly a controversial thriller that aims to please and ultimately succeeds. This film revolves around an aspiring TV journalist and all of his endeavors performed in order to succeed in television journalism. In this journey, we see him defy journalism ethics in several occasions.
Lou Bloom, an aspiring videographer in Los Angeles, played by Jake Gyllenhaal, becomes determined to land a job in the news industry recording local crimes after he witnesses a nightcrawler, Joe Loder, on the scene recording all of the gory details. "Who am I? I'm a hard worker. I set high goals and I've been told that I'm persistent," says Bloom. Eventually he sells an up close and bloody coverage of a recent local crime to Nina, a veteran of television news who works at a local news station. It was very controversial to put it on the air since it is unethical coverage. This prompts him to become even more determined to continue getting these videos.
Throughout the film, we see Bloom going to extremes to get the perfect shot of the perfect crime, no matter what it takes. He hires an assistant, Rick, played by Riz Ahmed, to help by listening to a police radio scanner, looking for a suitable crime, and helping give Bloom directions to wherever the destination. As the film progresses, we see him getting into more dangerous situations and we see him becoming more immoral, purely to get the preferred footage. This is devastating to the eye, but it is what often happens in real news coverage of crimes. However, Bloom is definitely not portrayed as a character in the right mind. In one scene, we even see him screaming into a mirror "Who am I?" at the top of his lungs because he thought that he forgot. When searching for keywords to describe this movie, "sociopath" was the most popular term and rightfully so. With this, Lou Bloom could not be a better representation of a sociopath.
Jake Gyllenhaal played the role of Lou Bloom and could not have done it better. There is no denying that his physical appearance practically makes the character. We see Gyllenhaal looking completely crazy, accented by his thin body and eyes that are almost always wide open, seeming as though they're bulging out. "I'd like to think if you're seeing me, you're having the worst day of your life," said Bloom. There definitely could not have been any other way for this character to be portrayed.
On a scale of one to Beyoncé, this film deserves a solid Destiny's Child. A perfect combination of brilliant cinematography and flawless actor portrayal without a doubt made for an award worthy film sweeping the nation. Just remember, "If you want to win the lottery, you have to make the money to buy the ticket."