Kim Possible of Room 2.133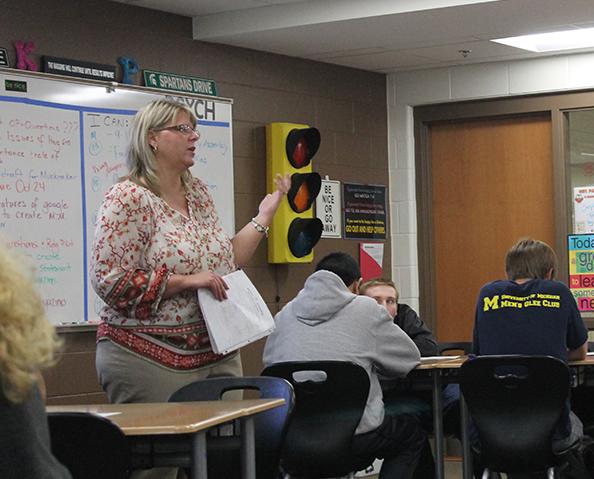 "She's so passionate about what she does, and she just gets so involved in her teaching.  You can tell she really knows what she's talking about, and you know you're always going to  learn something from her," says Anna Heysteck (10) when asked about her former teacher, Mrs. Palmer.  Kim Palmer has been inspiring students at Portage Northern for twenty-one years now. She teaches History and Psychology with such a passion it makes students excited to learn. "Whenever I step into Mrs. Palmer's room, it immediately brightens my day," says Allison Mckenzie (9) "I love listening to her. She's just so knowledgeable."
You might see Mrs. Palmer driving around in her  bright yellow VW bug.  At one time her dream car, this "dream" is now a reality thanks to her husband who surprised her with it just last year.  "Even today whenever I get inside, I just feel so happy."  says Palmer.  But beware, this bug is not a "slug bug", but a "hug bug."  It is meant to bring people happiness, not a sore arm!
"
Whenever I step into Mrs. Palmer's room, it immediately brightens my day."
— Allison Mckenzie (9)
Palmer also recently traveled to Uganda, Africa with her family and church to serve with the ministry Watoto, a care program set up to help many women and children whose lives have been devastated by war and disease. They worked mostly in a baby house, caring for the newborns. She finally met the two children she has been sponsoring for the past twelve years.  "We got to see all of the letters and gifts we ever sent them.  It was so empowering to see how far our money has gone," says Palmer.  Uganda is a country that Joseph Kony (leader of "The Lord's Resistance Army" in Uganda)  totally wiped out, leaving many residents struggling to get back up on their feet. "It's amazing how much hope and faith these people have for having so little."
Mrs. Palmer's current life motto/quote is "Be awesome." – Kid President.  She says, "You just have to take the gifts you've been given and use them in life.  I think we all have struggles to face, but we just have to look past those things and just rise up and be awesome."
Mrs. Palmer is the type of teacher who inspires all of us to be the best we can be each and every day and I think we could use more people like that in our world. " Mrs. Palmer has such a kind heart and it shows through all her actions," said Savanna Randol (12).
More with KP:
Q: What is your favorite part of teaching?
A:  Every year at the end of the year,  I read through students reflections and its truly amazing just reading them and seeing how far they've come.
Q: How many kids do you have?
A: I have two boys over at Central, Ben and Colin.  One is a senior and the other is a freshman.
Q: What is something not a lot of people know about you?
A: When I was in college I worked at Stryker on an assembly line making hospital beds!