Senior Turab Alam wins city of Kalamazoo social justice award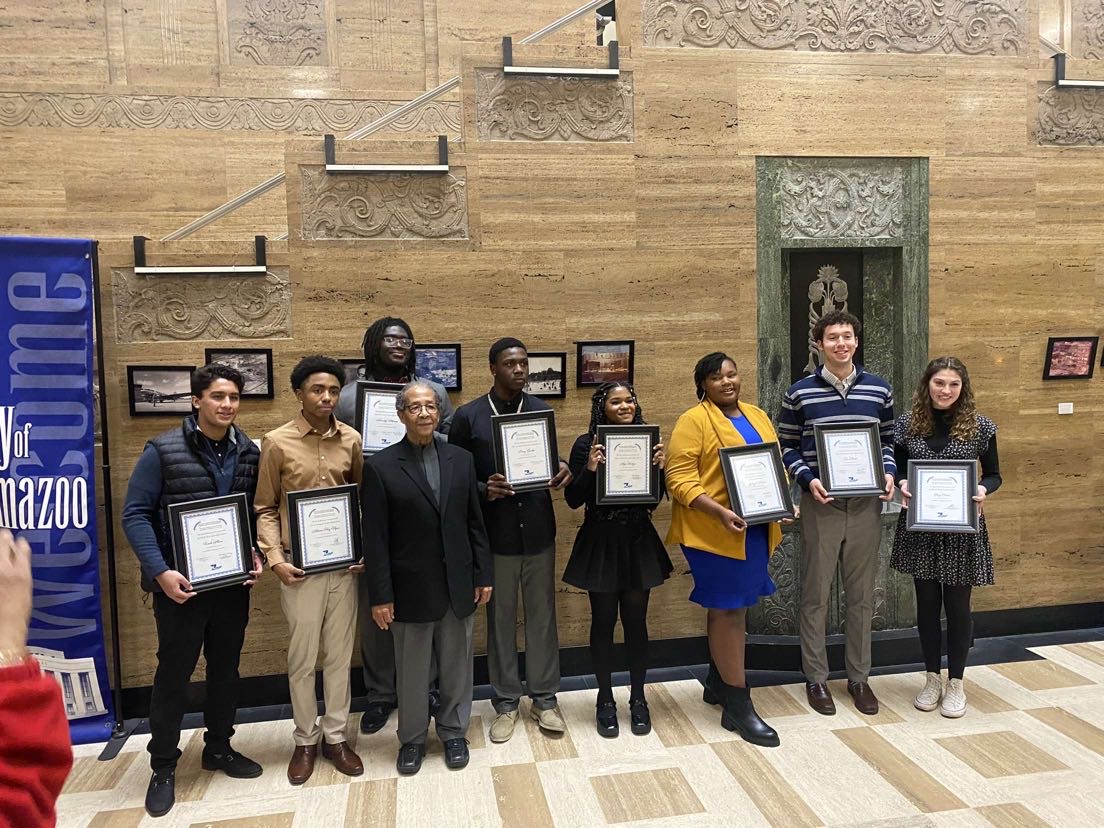 On January 17, 2023, senior IB diploma candidate, entrepreneur, and aspiring philanthropist Turab Alam was awarded the Kalamazoo Nonviolent Opponents of War (KNOW) Social Justice youth award at Kalamazoo City Hall. Alam's recognition stems from his hard work, creativity, and generosity. 
Each year, students aged 12-19 from around the community are nominated for this award for their human endeavors and in honor of Dr. Lewis Walker. Walker, a professor at Western Michigan University, has been a lifelong civil rights activist – contributing both publicly and privately to countless lives. 
"They are looking for students who are active in the community, volunteer, and are committed to causes that promote justice and equity for everyone," said Neena Porter, the administrative support coordinator at the city manager's office. "All nominations are reviewed and scored by the organizations who are sponsoring awards." This year there were 8 awards – all sponsored by a different program. Alam was awarded a plaque, a one-year membership to the NAACP, and a monetary prize of $300. 
Growing up, Alam always had the intrinsic motivation to be a businessman, but not just for himself, to benefit others."I liked the idea of being creative in the facet of business and going about having my own," he said. This past year, Alam and another student founded Avail Clothing, in which part of the profit is donated to Muslim refugees. "My mission was to create a business with the purpose of giving back, not only to make money." 
His effort to serve the community he is a part of has not gone unnoticed. History teacher Rick Searing described him as "caring, principled, and a risk-taker." Searing is also the IB coordinator, so he's spent a considerable amount of time working with Alam. "I think his willingness to stick to his principles and beliefs is admirable. He is certainly open-minded and willing to help everyone," he added. 
Alam's counselor, Shari Smith, also recommended him for this award. "Since Turab has been involved with creating his own business and giving back to his community, it made sense that he should be nominated." His IB English teacher, Amanda Thorpe, formally submitted his nomination, who had previously invited him to serve on a student focus group hosted by KRESA about improving diversity, inclusion, justice, and equity at Portage Northern. Alam later discussed his gratitude towards English Teacher Amanda Thorpe, who helped him truly engage in the fight to improve Portage Northern's diversity and inclusion. "Dr. Thorpe has been a really great role model the past two years in and out of the classroom." During the ceremony, Alam felt humbled and grateful to be a part of this experience. "My initial feeling when receiving the award was just being proud, it was great to get recognition from the city of Kalamazoo," he voiced. 
Alam intends to continue expanding his business and participate in various activities to ensure that his community and, ultimately, his identity are given the help and prosperity they deserve. "During the summer and in the second semester I want to have more community involvement with volunteering and progress with the Kalamazoo Boys Islamic Youth Group," Alam shared. For him, this award is only another stepping stone toward his ultimate goal of helping as many people as possible.