Kayla and Abby's Huskies Eats: Fiesta Burrito and Kumo Hibachi and Sushi
February 2, 2023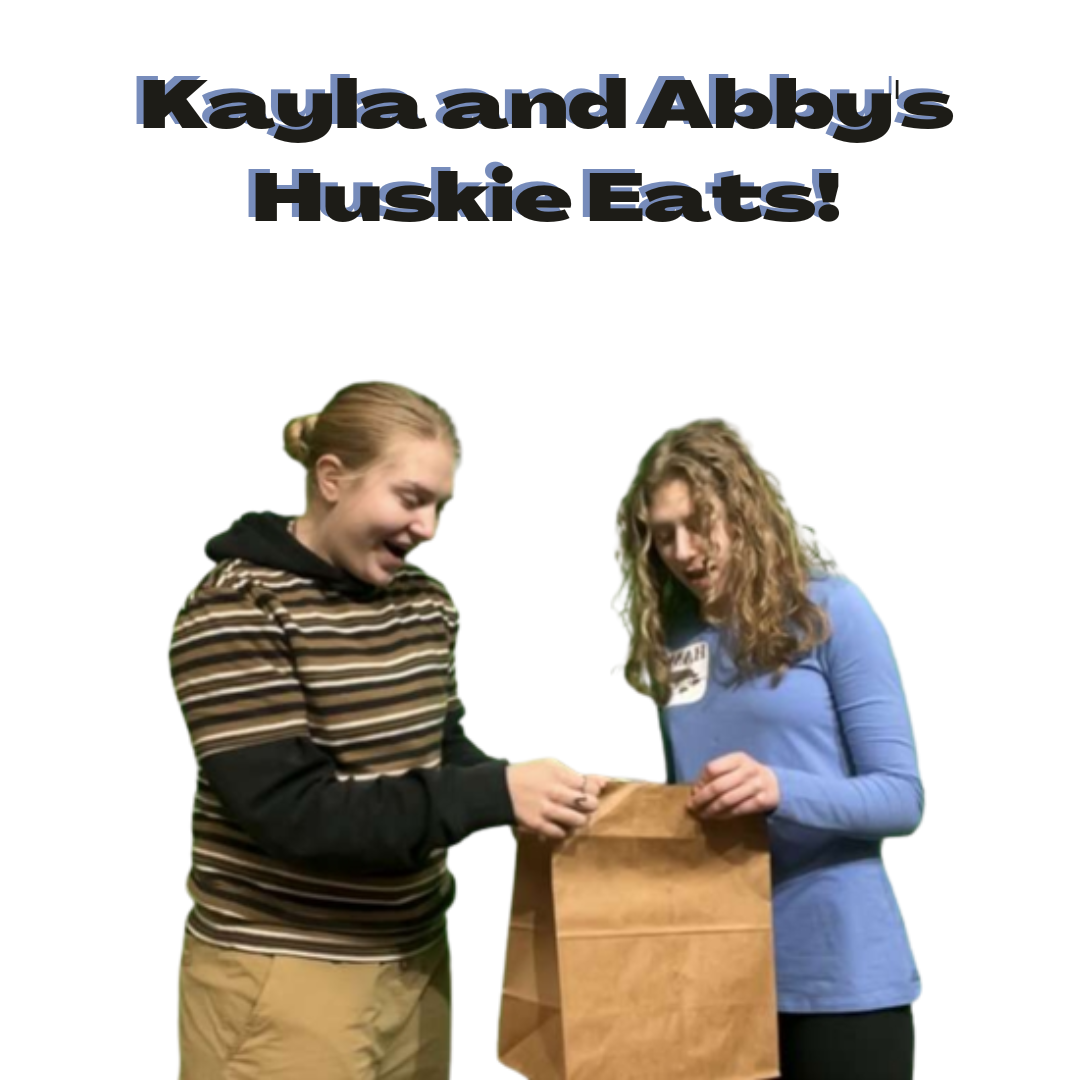 "Huskie Eats with Kayla and Abby" is the best place to find all you need to know about student-friendly restaurants around Portage. Join us as we spread positive food culture and explore hidden gems within Portage!
In this installment, Abby went to Fiesta Burrito, located at 3774 W Centre Ave, Portage, MI to review their restaurant.  Kayla traveled to Kumo Hibachi and Sushi located at 6396 S Westnedge Ave, Portage MI to review their respective restaurant.  If you have any recommendations of places we should check out, email us at [email protected] and [email protected] to let us know your favorite place to grab an eat!
Fiesta Burrito
I ordered two Tacos Mexicanos with ground beef, cilantro, onions, and lime on the side that you can squeeze onto your tacos. I paired it with the Regular Beef Burrito with ground beef, refried beans, rice, tomatoes and onions. The last thing I had was three Grilled Chicken Tacos with cheese and sour cream. All orders at Fiesta Burrito come with a free order of chips with a salsa bar where you can pick out which salsa you like.
The Tacos Mexicanos were phenomenal! From the first bite, I knew the Tacos Mexicanos would be my new obsession. Sitting at the table, I devoured my food, feeling like Goldilocks as the food was just right. The lime juice gave it a hint of sourness that mixed well with the mild green salsa I added from the salsa bar. The burrito was balanced and not one ingredient overpowered the others – something that every food lover seeks. I am a fan of spice, so I added some mild green salsa to give it the slightest kick. Even though the Grilled Chicken Tacos had only three ingredients, they tasted amazing. The seasoning on the chicken was absolutely delicious. Much to my enjoyment, the leftovers tasted great the next day. 
Along with having amazing food, the staff and owner of the restaurant are so nice and create a happy and friendly environment. When I first walked into the restaurant, I was greeted with a smile and a wave-which just put me in a happy mood. My family and I have been eating at Fiesta Burrito for years, and every time we go to eat, the owner comes to say hello and asks how my classes are going. He does this with a lot of people at the restaurant. The rest of the staff is amazing as well. Every time my family orders it takes a while to figure out what everyone wants, but employees are patient and helpfully answer our questions about the menu. It makes the Fiesta Burrito experience very enjoyable. I would one hundred percent recommend eating at Fiesta Burrito. If you love tacos as much as I do, and you are looking for a new addiction, you have to try their tacos Mexicanos and tell me if you feel the same way.
View 8 Comments
Kumo Hibachi and Sushi
I ordered the Edamame, Dynamite roll, California roll, Salmon roll, Tuna roll, Rainbow roll and Philadelphia roll.  All of these rolls are served with soy sauce and are wrapped in sushi rice and seaweed.  I ordered the Edamame as an appetizer and it surely arrived before the regular meal order.  The Edamame is a good portion and can serve two people with a single order.  The sushi itself came out not long after, served with wasabi and ginger to cleanse your palate between rolls.
 The Dynamite and Rainbow roll are specialty rolls, the Rainbow being a California roll with assortment of ingredients on top and the Dynamite being an assortment of fish and avocado splashed with sriracha.  These speciality rolls were delightful, they were a good size to dip into the soy sauce and the flavors complimrned each other well.  All rolls come with 6 pieces with the speciality rolls being a larger size width wise.  The California and Philadelphia rolls both have complimentary flavors, with the Philadelphia having cream cheese within it providing a creamier taste.  The California roll has cucumber, adding a bit of a nice crunch to it. The Tuna and Salmon rolls are more basic rolls and the smallest in size; these rolls are small and easy for putting wasabi or soy sauce onto and they have great base flavors and are great for the first time sushi trier.  The meal overall came out timely and was fresh, all of the rolls were put together and the presentation was wonderful.  The meal was enjoyable, tasty and fun.  
The restaurant's staff and waiters were very kind and made every effort to make the meal accommodating. They provided answers about allergy questions and were able to create an accommodating experience for diners with allergies. The servers asked many questions to engage and many diners and servers were making conversation during the meal.  The atmosphere of Kumo is relaxing with lower lighting and art on the walls. The hibachi area is separated and dark for an entertaining experience.  This restaurant would be great for any pre-homecoming or prom dinners, as it's more formal than your typical restaurant.  There are also plenty of options to choose from, so everyone can find something enjoyable.  The service is quick and helpful, and overall the restaurant provides an enjoyable experience every time I've visited. 
View 1 Comment