A rivalry develops
November 11, 2021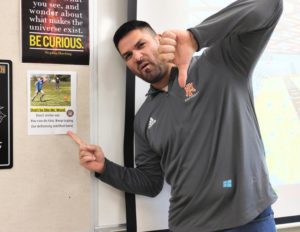 What appeared to be a straightforward fundraiser quickly escalated into a friendly competition between science teacher Chris Prom and history teacher Joey Wood, who have a long history of trying to one-up each other. 
When the two first met at new teacher orientation in 2019, things got off to a rough start when Prom caught Wood licking the frosting off his Oreos before he ate them. "He came up to me all crazy-looking, spouting off about how I ate my Oreos all wrong," Wood says. 
Things continued to go downhill when Wood caught Prom eating a right Twix, then throwing the left Twix (which Wood believes is the superior Twix) away. Things got even worse when Prom discovered that Wood was a fan of the band Hanson, while he was a fan of Nickelback. "Case closed. I don't like Mr. Wood," Prom said, equal parts emphatic and joking.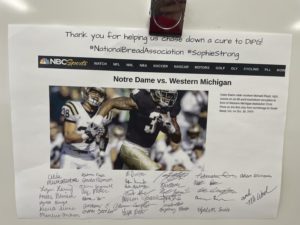 From there, the rivalry only expanded. Prom has a photo of Wood wiffing a kick in last year's United Club kickball game, and Wood, who advises the student senate, edited the Breadlift donor photos to feature a picture of Prom getting beaten by a defender during his days as a WMU football player. When the coin war was introduced, the two decided it was the perfect way to continue their feud while helping the families of Portage. "This was the perfect opportunity," Wood said. "I just hope that it is an Oreo Cream pie so he will finally see how frosting first then cookies is the only way to eat an Oreo." 
When all was said and done, 23 teachers volunteered to take a pie in the face for such a great cause, but the winners were Prom, Wood, and science teacher Justin Olsen. Prom had a little bit of help getting to the top: Wood came in with a stack of $1 bills one day and gave them to students to donate to Prom's jar.