Coming to PN
October 26, 2021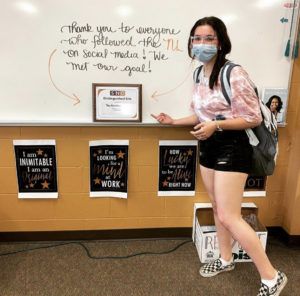 My first official day as a PN student did not go quite as planned: due to the Covid-19 pandemic, PPS started the 2020-2021 school year off virtually. Still, the excitement I had just knowing that I was not going to be attending PC for the first time in 5 years could not be killed. 
The fact that everything was not going as I hoped also did not stop me from getting involved. Within my first week of virtual school, I joined the school newspaper, the Northern Light. In November, I made the women's basketball team. We did have to shut down all contact sports for a while, but even that couldn't steal my happiness at being somewhere that finally felt like home, even if basketball practice was as close as I got to the actual school. Going into spring, I continued my athletic journey and joined the softball team. 
In between the mess of athletics, virtual school, and still being new to PN, I was finally able to attend in person on February 8, 2021. As the day got closer, my nerves started to grow. What if this school was not everything I dreamed it would be?  
Walking into the building on my first day was insane; it felt unreal. Throughout the whole day, I started to feel more and more wanted here. I truly never realized how fun school actually could be. Being a student was far from normal due to social distancing, but I still felt distinctly at home.