Experiencing educational inequity
March 17, 2021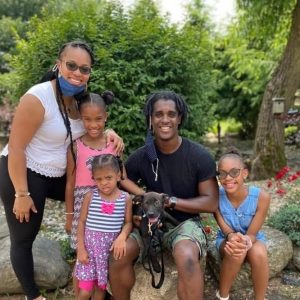 Harris' compassion for education started young, and he is consciously aware that support needs to start early: "I know the value of education and how transformative that can be. I have people who have supported me, through my education and through my career. And also see what can happen if people don't  receive that same level of support in terms of their academic career," he said. 
Growing up in Grand Rapids, Harris was bright and felt represented in his community, but when he switched to a new and advanced magnet school, things changed. "I go from this all black school where I was one of the highest performing, thrown into the situation where there are 100 seventh grade kids and like, eight of us are black," he shared. "That was my first time being the first the only black kid in the room. Then you start to internalize it. I wonder if they know that I'm the only black kid here. I wonder if that Asian kid feels the same way. I wonder if that girl with the hijab feels the same way that I do."
This feeling stuck with Harris as he began to comprehend the disparity harbored in education at a young age. He didn't realize at the time that his feelings mattered, that like any student, he deserved to feel seen and represented.
Harris graduated from East Kentwood High School, and upon beginning his studies at the University of Michigan, he hoped his matured peers would be different at this level. "I got to Michigan, one of the best places in the world is Michigan is great. There was a lot of stuff going around campus however, including blackface at frat meetings, and you kind of realize that, then it becomes more concrete for you, as (college students) you're old enough to kind of like, verbalize and understand the history and the conflicts of all the stuff that's going on," he said. 
Out of these experiences of disparity and discomfort, Harris knew he wanted to make a change to combat injustice. Harris explained, "I fell in love with the idea of youth service, probably in undergrad, whether that be working with a leadership conference for high school kids, or working with the local high school program for civic engagement and leadership development. It was just like, something clicked, something's made, and it fits your personality. And it fits your lifestyle, and it fits your own story." 
After college, Harris would live all around the country navigating life as an educator. He knew from the beginning that his purpose was not just important, but necessary. He made the choice to pick schools like the ones he encountered growing up, where his teaching could be empowering and an image of hope for students of color: "I was having a long commute to the areas that I wanted to work in, I wanted to work, because, I knew that those kids needed me and I needed them. Like it was a dual relationship, I felt like I could really provide a level of insight as being a man who's conscious of both of these identities." 
Through his teaching and the growing of his family, Harris would refine and feel completely in touch with his focus and overarching purpose as an educator. "Over time, as we've had our daughters, as we move around the country, being an educator, I work with different groups of people. And becoming more of a passion, in terms of like, we need to make sure that these people are supported and welcomed, and loved and championed, and that they have somebody who's genuinely standing up for them," he explained. "Everyone should feel loved, welcome, accepted and encouraged."
When first moving to Portage from Nashville with his family, he hadn't intended to teach in Portage. He first thought his purpose was working in KPS, aligning with his goals and mission as an educator. He knew that all students needed aid and proper guidance, but also understood that students of color in historically redlined white flight communities needed it most. "I am going to drive 25 minutes up the street and go work for KPS on the northeast side at Northeastern elementary school," he said. "You know, like, once again, the demographics are starkly in opposition to Portage's. But that's where I wanted to teach."