Aftermath
October 13, 2020
School board members found themselves inundated with a flurry of community concern over an issue that they had yet to be briefed about, resulting in some members issuing parting statements that could be perceived as placing the blame on teachers, parents, and students for getting worked up over nothing. "Up until 5 minutes after the meeting, the Board was under the impression the district was in discussion mode. We could not understand why there was so much anxiety over discussions. The reason for the anxiety became obvious after the meeting concluded," Board trustee Rusty Rathburn recalled. "That was when staff members presented us administrative memos which clearly indicated that the district would utilize Hybrid Learning Model effectively at the end of the marking period."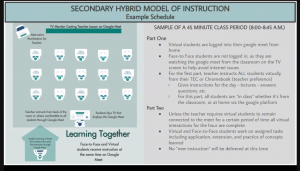 Many school board members clarified their thoughts and feelings after learning more about the situation. Droppers described the difficulty and miscommunication of his initial statement. "From the meeting, I went on record stating that I was disappointed that the process got as far as it did with teachers submitting letters (over 30 of them) of concern and administration basically staying silent," he explained. "I didn't understand the whole situation and I didn't know that there had been correspondence regarding the subject in question." When reflecting on his response later, he added, "I was frustrated that the administration let it go that far, and I was frustrated with the teachers and the letters because I didn't understand why the teachers were so frustrated. Now, I know. The whole situation is just too bad."
Snyder indicates this miscommunication could have been avoided. He expressed disappointment that the admin didn't interject, even at the last moment. "My initial reaction was that they must have heard a rumor or some type of misinformation because no such proposal was on our agenda. Further, the superintendent, who was present at the meeting, did not interject to clarify," Snyder explained.
Since learning the correct information, for the original hybrid plan, Snyder has had a change of perspective. "Following the meeting, my email box filled up with teachers forwarding documents indicating that planning was, indeed, underway for implementing a hybrid model that would start with the 2nd marking period," Snyder clarified. "I am very disappointed that the board had not been made aware of those plans."  
Beyond his disappointments, he knows one thing for certain. "I want to thank teachers who brought us accurate information in good faith that evening. My heartfelt apologies to them. Teachers also have my thanks for following up with further information that brought more clarity. I appreciate and respect their tenacity," explained Snyder.
Novaria feels their initial responses at the close of the meeting were distorted. "I believe what I and other board members may have said was misinterpreted," she said, expressing disappointment on all fronts: "We were not only shocked, but felt we had been duped on all sides. We had not received the appropriate information from anyone prior to the meeting. Not administrators, not teachers."  Like Snyder, Novaria iterated that this didn't need to happen and could have been resolved with communication. "If I and other board members had been able to validate the information from the beginning, a lot of angst could have been avoided. This should never have happened," she said.  
Rathburn echoed his colleagues' dismay "I am disappointed," he said. "I am disappointed the administration never shared with us that this was the plan, not a rumor. I was disappointed that the administration gave us an extremely vague presentation, once again leading us to believe these were discussions." He also expressed concern that the Board was not notified ahead of time by the Portage Education Association, which is the union that represents Portage teachers. "I can't grasp why nobody from union leadership gave that information until after the meeting," he said. 
As the only serving board member with children currently attending Portage schools, Rathburn has a unique perspective. "I'm 100% satisfied with Gabe and Luke's online learning," he shared. "The teachers are doing an amazing job engaging and teaching kids."
He is also aware and acknowledges it's not for every student. "I think we are losing the battle with many kids. Online learning requires a lot of variables to be successful. Beyond the excellent teaching, kids must have self-learning skills," said Rathburn. "Some kids require direct supervision. Not all kids have engaged parents assuring school work is getting done. And most kids need the social emotional aspect in-building instruction provides. My senior, Gabe, misses that immensely."
Despite having already known of the proposed hybrid plan, teachers felt sidelined and excluded from discussion after the meeting. Toth is candid as she recalls feeling defeated while searching for hope. "Honestly, I hung up from the board meeting feeling a little defeated. I was looking for answers on how to keep my community safe, and some of the board seemed upset about that.  I felt slapped on the wrist for asking questions," she shared. 
Furlong expressed his disappointment on behalf of himself and PEA member teachers. "We have a highly effective superintendent, and yet he has no understanding for the struggles that teachers face every day in this environment," he said. "Nor has he assembled a team that can come up with a clear plan for how this will work. We have a curriculum team that listens to a selected population for guidance, not looking for a more diverse set of examples." Furlong does, however, see a way forward: "They should be focusing their efforts on seeking out many schools and individuals for guidance," he said. "I would ask that our curriculum team explore more options and diverse populations to guide their decisions and practices."