Concerns
October 13, 2020
Returning to the night of September 28th, after the meeting began, Assistant Superintendent Michael Pascoe presented a routine COVID-19 update. "The Covid-19 global pandemic has impacted our school community in a number of ways," he explained. "For many, it's a traumatic event in which some students have significant gaps in their learning and we're seeing equity issues that are more pronounced than ever before."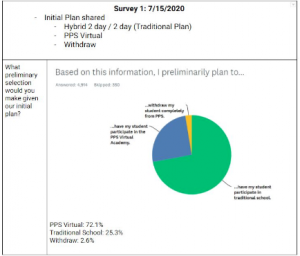 Pascoe elaborated on the divide interpreted to increase disparity in equity: "We have families that have advocated from day one that all of our students be back in person in classrooms with their teachers, at the same time, we have families that want to stay virtual for the remainder of the school year until a Covid-19 vaccine has proven effective," he said, indicating that district administration was in a predicament: they sought equity for students while negotiating contrasting perspectives from families.
An important factor to consider is that equity doesn't just apply to the students receiving the education, but also the educators tasked to teach in new environments. Spanish teacher Kaitie Paynich shared her conflicted perspective in her letter to the Board: "As I see it right now, the only way for me to provide any semblance of equitable instruction is for me to stay seated at my desk and deliver instructions from there," she said. "So that I can field questions from all students, both in person and via chat."
Beyond sharing her frustrations with the proposed plan, Paynich posed the question, "Why bother at all with in person instruction if the best mode is for me to treat it as though everyone were still at home?" Her inquiry stems from the reality that transitioning to the hybrid model proposed by the district would require teachers to teach in-person and at-home learners simultaneously, keeping both groups at the same pace in class with one group never getting ahead of / having advantages over the other. 
Paynich isn't alone in her difficulty with an equitable hybrid model. English teacher and forensics director Cece Weeks shared in her letter, "This will not be equitable, my attention will be split, my focus will most likely go to the students in the room." While attempting to reach admin's goal of equity, teachers find themselves pulled in both directions under the proposed hybrid model.
The district's handling of COVID-19 doesn't just impact Weeks' as an educator, but as a parent as well. "I made the very difficult decision to withdraw my own elementary age students from PPS and send them to private school because the plan for elementary was very poorly communicated and very unsafe," said Weeks. "We withdrew our children in person and followed up with an email to the elementary principal," she recalled. "Just today I received a phone call asking if my children were going to continue face to face for next semester. Clearly my children are still in the system, so why haven't they contacted me to ask where my kids are and where they've been?" This is another of many examples of the communication issues that have plagued the district throughout the pandemic. 
The 2020-2021 school year has already crafted many firsts within the district. After teaching with PPS for twenty-seven years, Palmer shared in her letter, "This year has been the most challenging of my career. . . I'm working harder than ever and was filled with panic this summer with last minute plans and few answers." Despite the arduous start, Palmer indicated to the Board that she and her students were hitting their stride virtually: "I'm discovering I can teach online," she said. "My students and I are becoming a great team."
The reality of the current situation is not lost on Palmer, who is well-known as an advocate for students. "While we know an in person education is best, I'd rather not risk my life and theirs on empty promises of cleanliness and social distancing," she stated.
Palmer closed her letter with three requests. "Please don't ask your teachers to plan for another completely new mode of instruction that we know as professionals not best practice. Please do not ask us to do this and not be effective for our students. Please don't ask us to do this with no answers or proper planning. We should not be asked to figure this out as we go when we are just starting to figure out online."
Like Palmer, coach, physical education teacher, and Portage Education Association President Chris Furlong advocates for teachers and students alike. Detailing his frustrations with the sudden move to hybrid, Furlong asked, "What has changed? We are still in phase four, the cases have not gone down enough to get to phase five. And [the school board] voted to stay in virtual until phase four is over and thus is it safer for us to return."
Confronted with a hybrid model aimed to begin as soon as the second quarter, Furlong recalled, "The plan at this point without clear guidance is to bring kids back to school and let them be in our rooms while staring at a computer screen all day," he further expressed. "This is not face to face. This is babysitting."
Opposition towards the hybrid model wasn't just felt by educators, but their pupils. Submitting a comment of her own, junior Grace Freed shared her discontent with a question. "Dear school board members, do you have kids? You, the person reading this, do you have kids? I'm a kid, a junior at Northern and I can tell you right now, switching to a hybrid plan for the second marking period is a terrible idea." 
Faced with the conflict of continuing virtual learning or to reintegrate face to face, Freed details the difficulty behind her decision. "I have the ability to stay home and will continue to learn virtually, which I would do due to the lack of safety I already know will not be there," she further explained. "[Yet] if I stay virtual, while even just some of my peers go back, my quality of education will suffer."
Despite emerging confident with her decision to stay virtual, she feels the administration isn't prioritizing safety. "It seems as though the administration only cares about getting people back to school as fast as possible and not about the safety of kids or teachers," says Freed.
Standing alongside her fellow student, Budnick believes important factors aren't being evaluated. "While considering back to school options I think it is important to consider and weigh all of the options. Personally I've had to quarantine more than once since school has started," Budnick shared in her letter. "The majority of students want to go back to school for the second quarter, but I believe that the earliest we should go back to in-person learning is the beginning of the second semester."
Although Budnick's school year isn't what she hoped for, she doesn't forget what comes first. "I am someone who loves personal and social interactions. I'm also a senior who's devastated that I cannot have the senior year that I always dreamed of," said Budnick.
"I miss my teachers, my classmates and my friends, but when it comes to the safety of students and staff and their families, these social interactions can wait. Safety should always come first, and right now it is better to be safe than sorry."