First informed
October 13, 2020
Six days prior to the School Board meeting, On September 22, PPS teachers and principals were informed, in a series of meetings with district administrators, of the hybrid plan that was to be implemented on November 2, the start of the second quarter. This upset many teachers to the point of submitting their own letters in response to the hybrid model.
"I was disheartened, sad, frustrated and scared. I was under the impression we would not be changing modes of instruction until we were in Phase 5, " said history teacher Kim Palmer. 
Many teachers were concerned about how to logistically and safely make the plan work. "We were given the plan and told to start figuring out how to take what we've been doing to make it work. Unfortunately, it's not that simple in that short period of time, especially with no data to indicate the need to move to hybrid so quickly," Palmer elaborated.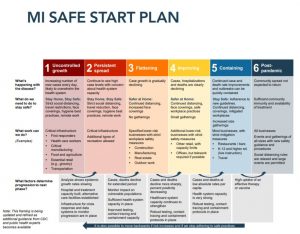 North Middle English teacher Johanna Toth was similarly concerned. "I was very surprised to hear that the district changed from the original plan to now include face to face in secondary schools despite the fact that Michigan is still in phase 4," she said. "I also began looking for ways to accommodate this big, unexpected change." 
These concerns led many teachers, including Palmer and Toth, to write letters to the school board with their concerns. "I began asking questions about the change planned by the district, but I was unable to access answers to my questions. So, I reached out to the board for clarification on the issues in question," said Toth. 
Students also found out about the news and wrote in to the school board. Senior Rachel Budnick, who penned a comment opposing the impending return to school, felt moved to respond after learning about the proposed shift to hybrid learning in one of her classes. "I was not aware of the teacher meetings," she said. "This was the first time that I had heard of it. It took me by surprise because the idea seemed to have come up so abruptly." 
Budnick, Palmer, Toth, and 29 others emailed the school board with their questions and concerns about the plan. At this point, however, the school board had not yet been informed of the plan to implement a hybrid model for quarter 2.