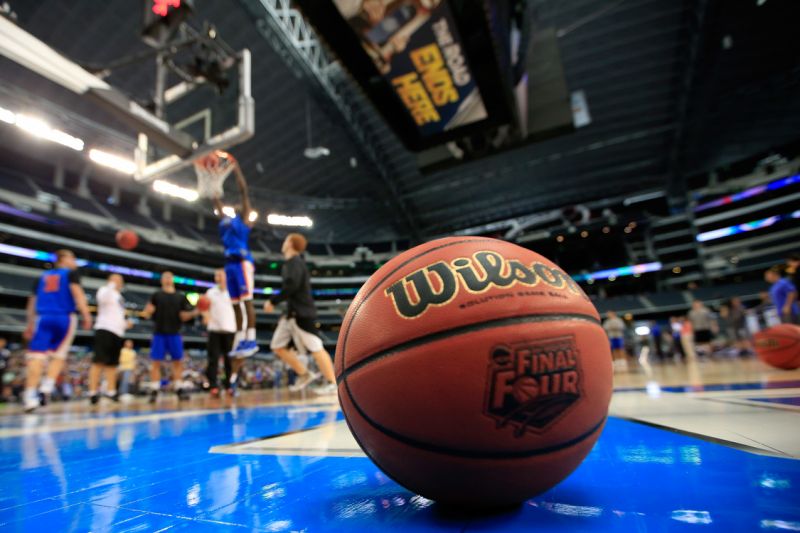 NCAA Tourney: the final four
This years NCAA tournament has been nothing short of spectacular.  Northwestern made the tournament for the first time in forever and managed to win its first tournament game in one fell swoop.  Wisconsin and Xavier, both underseeded, made excellent pushes. Wisconsin upset number one seeded Villanova while eleventh seeded Xavier beat both Arizona and Florida State to advance to the elite eight.  But perhaps the biggest cinderella of them all was number seven South Carolina who marched through Marquette, Duke, Baylor, and Florida to reach its first ever Final Four.  The excitement continues to build as only four teams remain, Oregon, South Carolina, Gonzaga, and North Carolina…who among them will be crowned National Champion?
(7) South Carolina (East Champion) vs. (1) Gonzaga (West Champion):
The Zags come storming into this year's tournament on a roll, making their first Final Four in program history.  The key to this year's success has been defense. The Zags rank fourth in points allowed and sixth in rebounds per game, mixed with a stenchy offense that ranks in the top 15 in points per game and making the Zags a lethal team on both ends of the floor.  Not only are they skilled, but these Gonzaga Bulldogs are BIG, with over ten guys listed above 6' 5", including three seven footers.  But they will face their biggest challenge of the season, when they face off with the South Carolina Gamecocks. If I were to tell you a month ago that the Gamecocks would be in the Final Four, you would call me psychotic and insane.  But that dream has become a reality for Gamecock fans, as South Carolina has advanced to its first ever Final Four.  The key to their success has also been defense and the willingness to compete.  During the regular season, the Gamecocks ranked 30th in points allowed and suffered losses to teams such as Alabama (twice!!!) and Clemson, who aren't even IN the tournament.  But come tournament time, they have taken down two former number one overall teams in Duke and Baylor.  This Gamecock team is special, but in the end, Gonzaga should be able to bully its way into the National Championship without much issue.    
Prediction:
Gonzaga: 81    South Carolina: 62        
(3) Oregon (Midwest Champions) vs.  (1) North Carolina (South Champions):
The Ducks beat arguably the best team in the tournament in the Kansas Jayhawks and have been playing at such a high level that they seem nearly unstoppable.  The Ducks have a potent backcourt in Tyler Dorsey and PAC-12 player of the year, Dillon Brooks AND have a defensive anchor in Jordan Bell, who had seven blocks in the win over Kansas.The key to the Duck's success is defensive intensity, their passing ability, and Tyler "Mr. March" Dorsey, who is averaging 24.5 points per game and has scored 20+ in every game so far in the tournament.  The Ducks ranked 32nd in assists per game during the regular season and have continued to build upon that in March.  On the other side, you have a team that has seen its fair share of Final Four appearances, the UNC Tar Heels.  The Tar Heels have been unquestionably dominant all year, leading the nation in rebounds per game, being third in assists per game, and being ninth in points per game.   The Tar Heels are a very deep team, with their bench playing primary roles throughout the entire tournament.  If the Ducks' guards step up their game, and Bell continues to dominate the paint, Oregon will pull off the upset of a lifetime and advance to the National Championship.
Prediction:
Oregon: 80    North Carolina: 77  
National Championship Prediction:
Oregon: 68    Gonzaga: 63      
The Championship will include a lot of offense mixed with tough defense.  Expect a thriller that's down to the wire, but the Oregon Ducks will be crowned champion for the first time since 1939, when the whole thing known as March Madness made its start.