Transitioning back to "normal"
November 5, 2020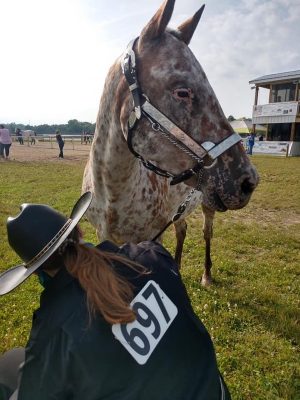 After the surgery, Funk tried to transition to her new normal. She is an employee at Old Navy, and after recovering a little after the surgery, she decided to return to work. "They told me that my safety and health come first, and that I can take all the time I needed," she explains. "When I called them and told them I was ready to come back, I had to go through COVID wavers and different policies." She started out slowly, ensuring that she would be able to transition smoothly after such a serious surgery. "They started me back with 10 hours a week, and had me working extremely short shifts," she says. Funk felt fully supported by Old Navy and her fellow employees. "They would constantly check up on me and make sure I was ok," she says.
Funk also had strict post-surgical restrictions. "When I first got out, I was on blood thinner, so I had to give myself shots every twelve hours," she explains. "I couldn't do anything. They wouldn't let me do any sports, they wouldn't let me ride horses, they told me to barely move around the house," she explains. This meant that, at least for now, her two main passions would have to be put on hold. 
Funk has participated in horseback riding for the last 11 years. Riding is a large aspect of her life, and her and her horses would compete in several competitions per year. She has also been a member of the track team since her freshman year and is a varsity thrower who does discus, shot put, javelin, hammer, and weight throw. 
Now that she is recovering from the surgery, sports are an unknown factor. "I'm not sure how track is going to go because of the quick movements," she worries. "I can't even stand up quickly right now without almost passing out. It's going to be a hard journey if I do go back to track."